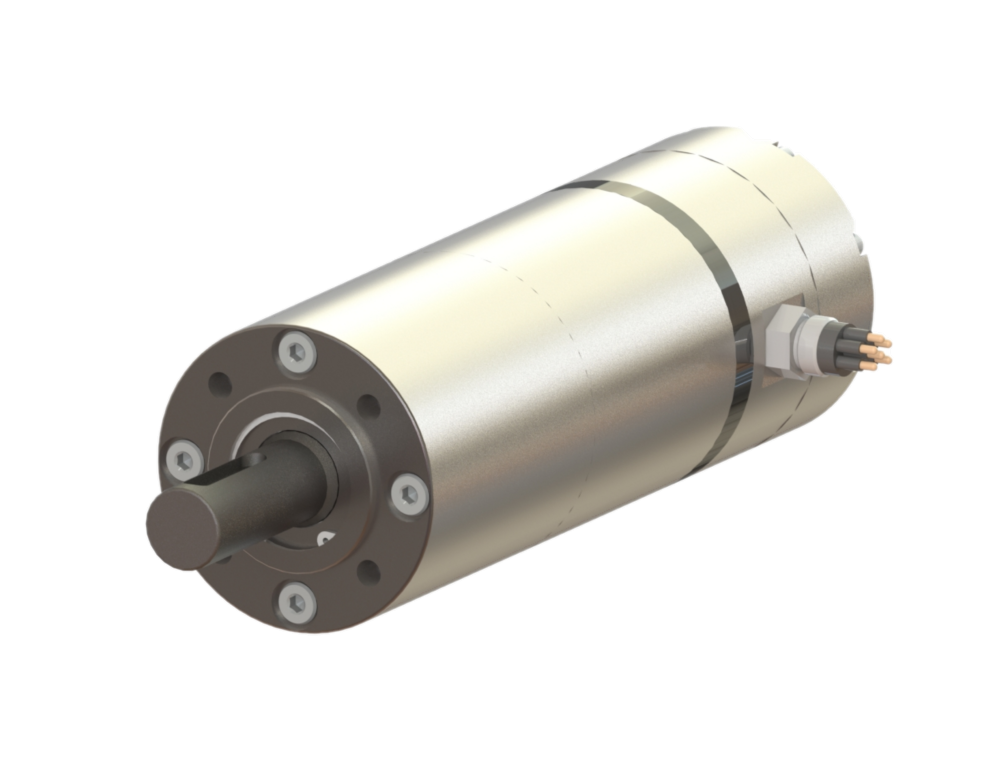 3000 Series
---
Rotary Actuator
The 3000 Series Rotary Actuator can deliver a peak force of 120 ft-lb and peak speed of 50 RPM making it well-suited for a wide variety of applications including process control such as actuation of process control valves, control surface actuation, and underwater winches. The unit may be operated in a variety of harsh environments including subsea to a depth of over 6,000m.
The 3000 series has an industry standard ISO 5211 F07 mounting flange and customizable output shaft with a right-angle gearbox option. Like all 2G actuator products, it has a fully integrated servo drive with absolute position feedback. The 3000R series has an LED light ring around the perimeter of the unit to provide operator feedback such as shaft position, unit speed, or unit status. The unit can be configured to operate from 24V DC up to 300V DC with your choice of several popular connectors. Material options are titanium, stainless steel, and anodized aluminum. Standard communication interfaces are available: RS-232, RS-485, CANBUS, Ethernet, and analog. The 3000R series supports a variety of communication protocols including 2G packet protocol, Modbus, and CANopen. Additionally, 2G provides example frameworks to help integrate the units into customer products.
2G Engineering is an AS9100 certified organization.
Pressure
Pressure rating is 10,000 psi max, which is about 22,500 ft depth in seawater.
Temperature
Operating temperature range: -20° C to 65° C
Storage temperature range: -30° C to 85° C
Humidity
The units can be used both above and underwater. When used above water they are considered to be IP69K rated and are suitable to be used in acid washdown environments. If your application has requirements for no hidden crevices or "traps" please contact 2G for this and other options.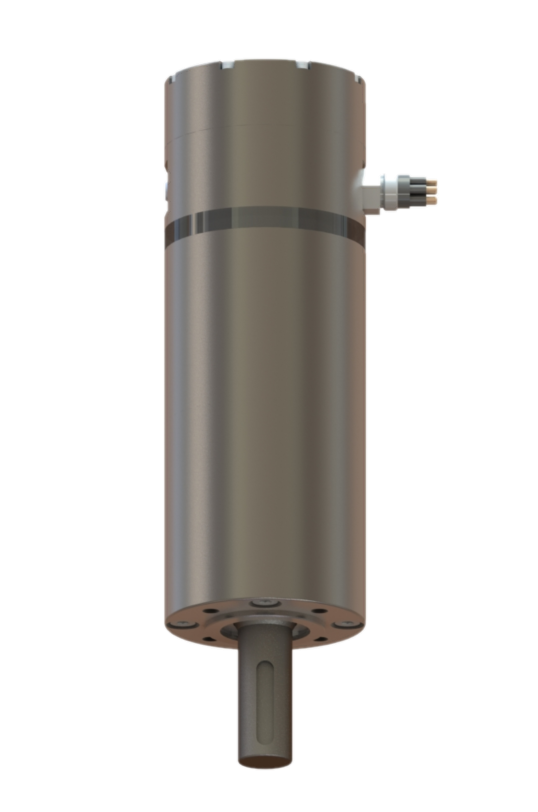 Output Force
Maximum rotational force: 120 foot pounds @ 5 RPM
Continuous rotational force: 65 foot pounds @ 20 RPM
Maximum Speed
50 rpm @24V
Standard maximum speed output is 50 RPM. Other configurations are available contact 2G for more information.
Intelligent Rotary Motion
Each unit is a fully integrated servo system. The user simply connects power and commands the unit to move to a position. At power up, the unit will know the revolution count and exact angle to which it is oriented. There is no need to calibrate or home the units due to the integrated absolute encoders on the output shaft. The servo drive features a motion profiler system to control velocity and acceleration and allows the operator a great deal of flexibility with the system motion control. Additionally, if needed, the user can adjust the servo systems gains to maximize performance for their application.
Onboard Servo Motor Drive
All 2G actuator products have integrated servo drives. These minimize the need for external systems to operate the unit. Most commonly, the units are connected to an external application host such as a PC, microcontroller or PLC system to command the units. If needed, the units can be configured to close a process control loop using an analog input, or receive an operator input in the form of a trigger signal to move to different preset positions. All 2G servo drives can be customized for user or application specific features, and have field upgradeable software.
The 3000R rotary actuator contains our 2nd generation servo controller connected to a 500 watt drive amplifier. The system features an absolute rotary encoder, accurate to 0.1 degrees with the ability to retain revolution count across power interruptions. Features of the integrated servo drive system include configurable motion profiling, velocity control, position control, gain scheduling, and cascaded servo PID control loops for position and velocity. The units come pre-tuned for stability for a majority of applications so the user does not have to adjust these parameters unless needed, while allowing flexibility for demanding applications. This makes our products easy to set up and integrate into your system.
The units use a contactless non-wearing absolute position angular encoder and do not require homing.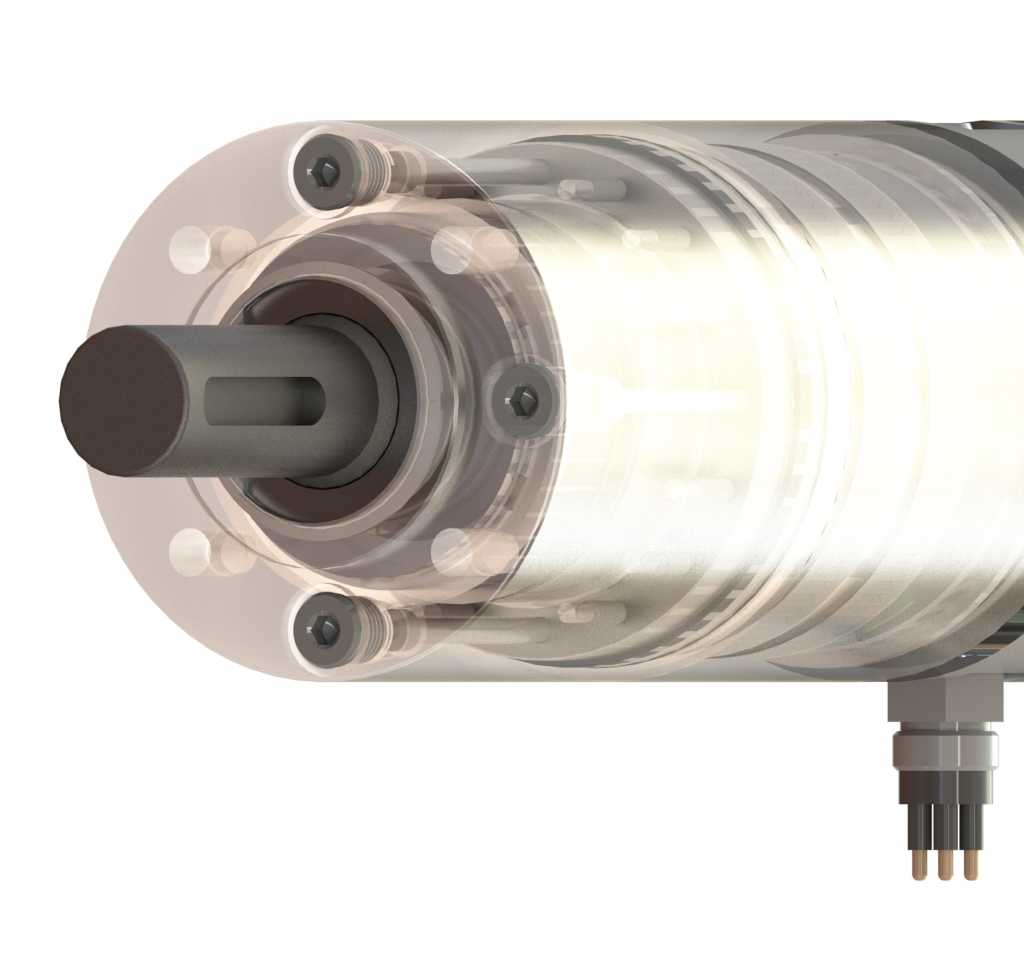 Feedback Indicator
These units have a unique visual feedback indicator via a light ring mounted around the perimeter which can be used to show a driver or ROV an indication of the unit's angle, rotation spread, or system health.
Communication Protocols
The following communication protocols are supported: MODBUS (ASCII, RTU, IP), 2G Packets, CAN Open, Ethernet IP. If there is a different protocol needed for your application, contact 2G and we can most likely implement it as needed.
Communication Interfaces
The following physical layer interfaces are available for controlling the units: RS-232, RS-485, CAN bus, Ethernet, Analog Voltage, and Analog 4-20ma. Additionally many units have options for redundant communication busses for having multiple hosts talk to them. Duel RS-485 is a common setup for high reliability systems.

2G Engineering has been building subsea motion systems since 2008. With 10's of thousands of hours of combined run time on our products subsea, we have a proven track record for use in harsh environments. The 3000 series has been designed to mate up with a standard ISO 5211 F07 mounting flange and customizable output shaft. A right-angle gearbox option is available. The units can be configured to operate from 24V DC up to 300V DC and have options for different subsea rated or industrial-specific electrical connectors.
User-Configurable Firmware
---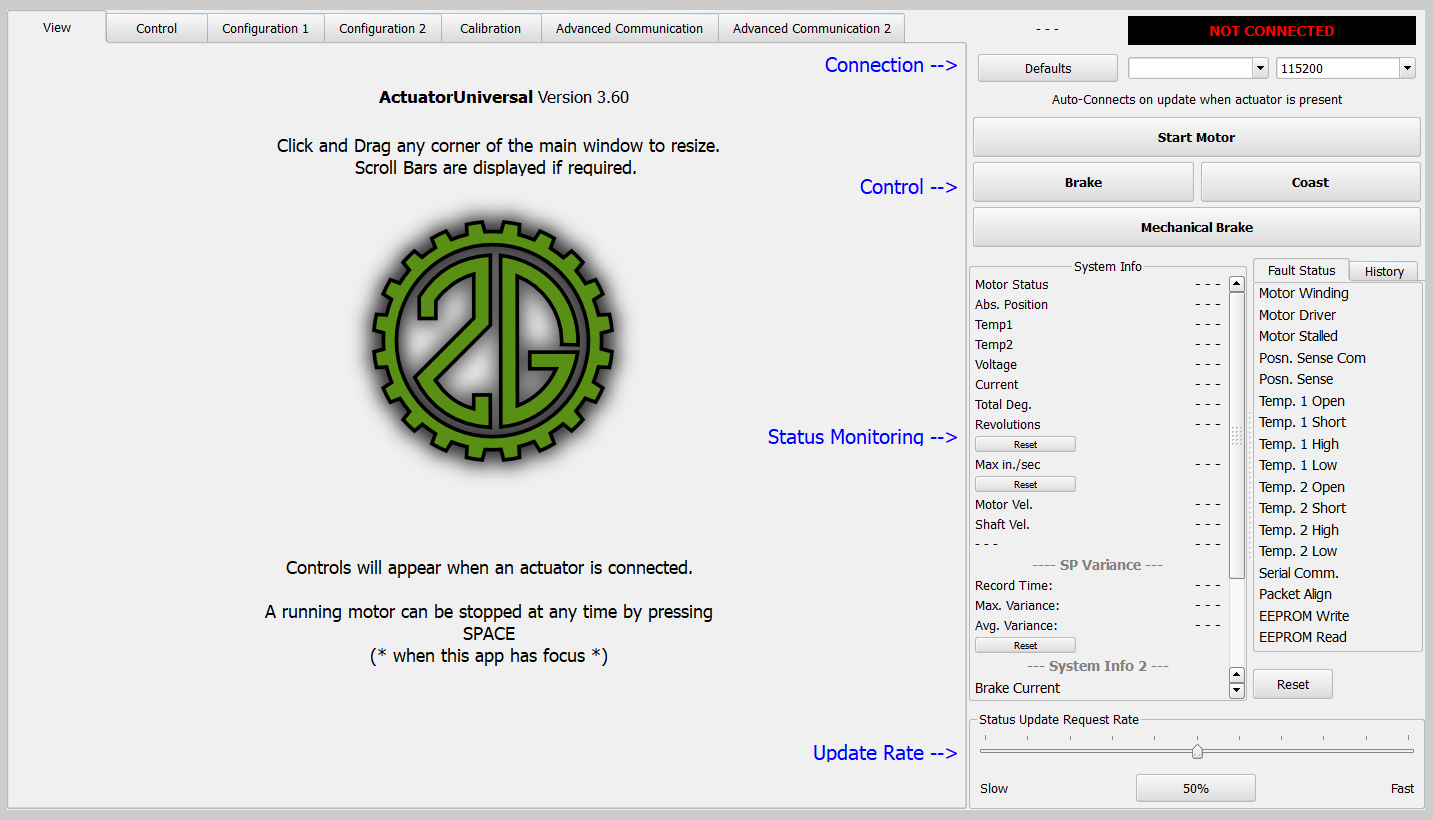 Application Software
All products include our Actuator Universal software, which can be used to set unit parameters such as current limits, power and speed. It has graphing and charting capability to help the user tune the system and measure performance. The application is available for windows, Mac, and Linux systems.
Custom Firmware
If there is a specific feature you need, please ask. All our units share common code, and if there is a specific feature, such as a communication protocol, automated operation, or state response system you need, we can implement it.
Relentlessly tested and proven under pressure
In our spacious 5500 square foot manufacturing and testing area, we are able to rigorously test our rotary and linear actuators in simulated subsea conditions, including temperatures as low as -50 C and pressures exceeding 5000 PSI.
Every product we manufacture undergoes a comprehensive Factory Acceptance Test (FAT) before leaving our facility. Our typical process includes verifying electrical and mechanical functionality, force and torque measurements, and a break-in period. A copy of the test records are included with each unit.
In addition to our standard FAT procedures, we also offer more extensive options, such as shock and vibration, environmental exposure, and endurance testing. Contact us and we will be happy to adapt our procedures to meet your requirements.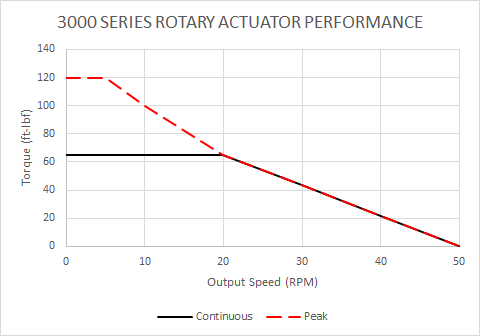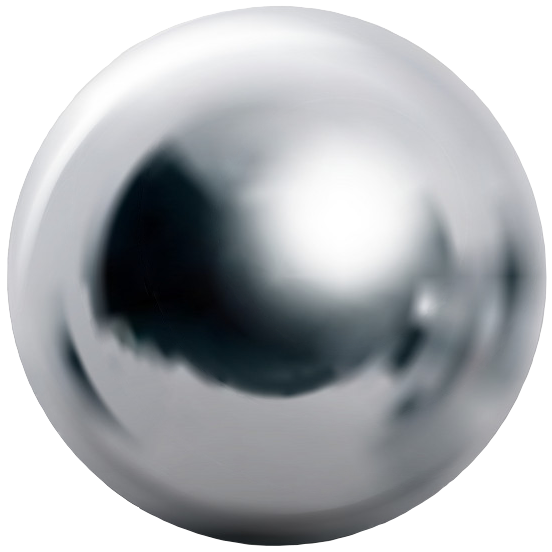 STAINLESS STEEL
316 Stainless steel is a popular choice due to its price point and resistance to salt water corrosion. Other stainless steel options are also available.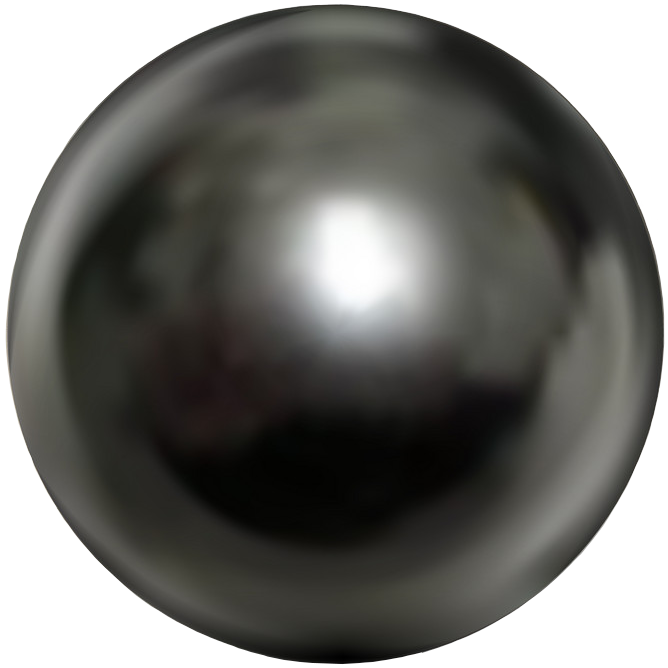 ALUMINUM
6061 Hard coat anodized aluminum is the lightest weight option and comes in a variety of color options. It is not recommended for applications in which the coating may become scratched.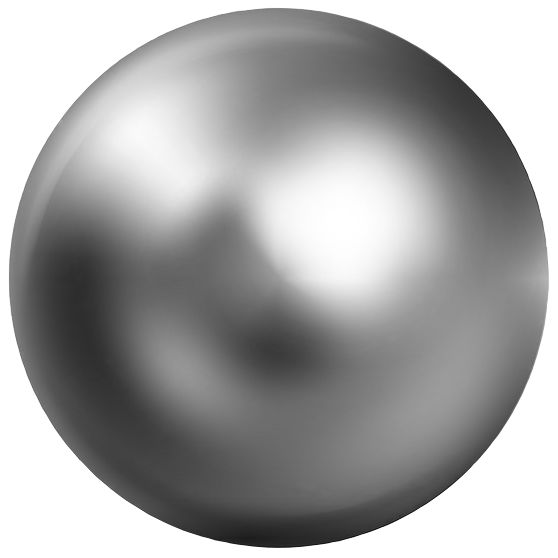 TITANIUM
Titanium is more lightweight and more resistant to corrosion than stainless steel.
Request Information
Request a quote, additional product information, or simply ask us a question, we're happy to help.